The first half of the year is complete, and it is now time to provide to the tech-industry, the market in general, clients and partners an update on AvantGarde Search's performance during the previous 6 months.
First and foremost, we must pass on our sincere thanks to all our clients, partners and supporters. We truly value you all and without you AvantGarde Search would not exist. A special thanks to all candidates who have been involved in recruitment processes with AvantGarde Search and our clients. The interest for most of our positions have been great and if you didn't make it all the way this time, there is always a next time. Particularly within a tech-industry. Last, but not least, a big thanks to our super intern, Victoria Rognlien for the work she has done in relation to a marketing business plan and our photo library. The same goes to our "praksiss student" from Kristiania, Ingrid Aukrust, who has worked on ensuring we are GDPR compliant.
For further information in relation to this post, please feel free to get in touch with Co-Founder and Chief Talent Sourcer, Erik Falk Hansen. efh@avantgardesearch.no +47 40 43 54 93
07.07.2021.
Summary
It has been a very good first half of 2021 for AvantGarde Search, both in relation to turnover, profit before tax, cash-flow and increase in number of clients. Our focus has continued to be recruitment for tech scale-ups and start-ups, but as demand for our services has increased, we have also started to work with some of the fastest growing consultancy companies and TV streaming companies.
As of July 2021, we currently have 12 employees in Oslo and 4 employees in Stavanger.
To many we are still seen as the "new" ones in the recruitment business, and we view this as a good thing. If we could always be seen as the "new" ones well, then we will constantly look at ways to improve, becoming better recruiters and better people. Although we have had a very good first half of the year it is still important for us to ensure that we continuously strive to improve. We will listen carefully to all the feedback from our clients and candidates and implement ways we can provide the very best service.
We hope you find this review of interest and feel free to contact us if you would like any further information in relation to AvantGarde Search and how we work.

Clients and placements
During the first half of the year, we have started work with 37 new clients split between Oslo and Stavanger. In addition, we had 28 clients in our portfolio from 2020. This has resulted in 105 placements year to date (78 in Oslo and 27 in Stavanger) and all positions / assignments have been on a retainer basis.
New clients include: MiraiEx, Unite Living, Data Gumbo, Tegma, Minuendo, GreenCap Solutions, Argeo, Sweet Tech, Dignio, Miles, PRA Group Europe, PwC, RiksTV, Aller Media, Boitano, Alv Technologies, Forte_Digital, Fell Technologies, Halodi Robotics, Ordr, Dossier Solutions, Ridge, Tomra, Space Group, Smart Cylinders and more.
Clients brought over from 2020 include: Airthings, Allente, Disruptive Technologies, Xait, Kairos Technologies, Podbike, EIDEL, Gnist, SOCO, wheel.me, TheFactory, Miros Technologies, Novelda, Proactima, Shipshave, Altus and more.

Financials
Our 2020 end of year accounts read a turnover of 8 441 017 NOK (ca. 20% increase from 2019) with a profit before tax of 917 743 (ca. 73% increase from 2019). By July 2021 we have a cash-flow of ca. 6 million NOK in addition to approximately 2,2 million NOK in outstanding assignments. According to www.proff.no the following applies: Cash flow – very good, profitability – very good, solidity – good.
We have seen a significant increase in turnover and profit in Q1 and Q2 in 2021 compared to Q1 and Q2 in 2020. As it happens, we have already outperformed 2020 total turnover with our turnover this year to date at 12 150 000 NOK and a profit before tax of 3 752 360 NOK.  Our revised budget for all of 2021 reads a turnover of 20 000 000 NOK and profit before tax of 5000 000 NOK.
Partnerships
Partners are extremely important to AvantGarde Search, and we like to ensure that we partner with companies who in many ways are contributing to a better planet / society. We are very proud and humble to have had the opportunity of becoming a partner to the companies below:
TheFactory
Goodify
The Ocean Opportunity Lab (TOOL)
Engineers Without Borders
ODA Stavanger
Kode24
Mental Health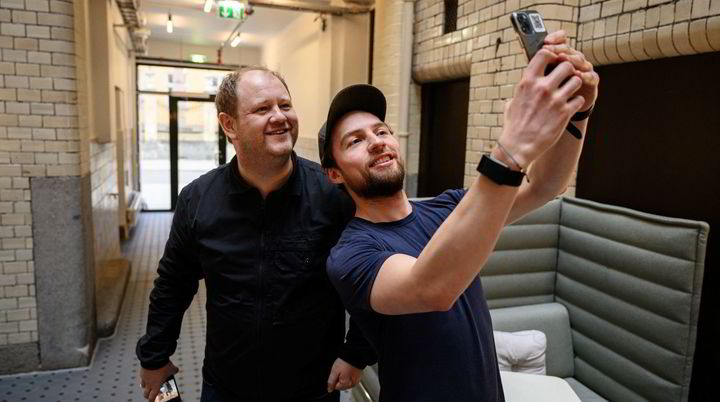 With our Co-Founder Erik Falk Hansen being diagnosed with Bipolar-disorder, mental health is very important to us in AvantGarde Search. Although society and the government have raised more awareness on this in the last few years, we believe that society has a long way to go before mental health is given enough spaces. Many with mental health issues are not in a position to work full time, some not in a position to work at all. Having said that, some people are so fortunate that they can function in a work setting, and in Erik and Daniel`s case, they have shown that people could also build companies with mental ilnesses.  Erik was interviewed by DN in relation to his illness earlier this year, together with Daniel Caetanya Fossum from Antler and Founders & Fools. You can read the interview here.
(Foto Fartein Rudjorf)
Media
AvantGarde Search continues to be one of the most used recruitment companies by the media in relation to work and career. We believe this is due to us being genuine and down to earth people who all have a modern way of looking at work, recruitment and career. Erik has been a regular at Nora Rydne in E24 Voksenpoeng while other media such as DN, Nettavisen, EnerWE, DB, Kode24 and Shifter have used several of our employees in news articles. Kode24  Kode24 Shifter. Europower-Energi Voksenpoeng
Teams and employees
By the end of 2020 AvantGarde Search had 3 employees in Stavanger and 7 in Oslo. We have grown by 6 employees during the course of H1,  5 in Oslo and 1 in Stavanger. Our latest 4 recruits will commence working with us in August of this year. We are incredibly excited to get them all on board. You can read more about the AvantGarders HERE.
Our aim has always been to ensure that we are a specialist recruiter. As the company has grown, so too have the markets we cover. In order to become a specialist within several fields, we have split into vertical market specialist teams in Oslo.
Ann Hege, Fathia and Patricia – Marketing, Sales & Design
Erik, Arnfinn – Management and Consultants
Lotte, Ole – SW Dev
Jonas, Patrick – IoT
Albanit, Masa, Jovana – Data Science, Analytics and Architecture

Technology / software
As we continue to grow so too do the various technology platforms we use. We have recently invested 250 000 NOK in LinkedIn Recruiter, in addition to holding subscriptions with useful platforms such as VIBBIO, Lime, Slack, Teamtailor and more.
Other info
Our Co-Founder, Erik Falk Hansen, was so fortunate to participate in several debates about diversity and discrimination through Diversify. This is a very important topic to all our employees, and it is great to see Chisom Udeze lead the way through her companies Diversify and HerSpace.
We have continued to lend our voice to students writing bachelor or master assignments and have this year been interviewed for 7 in total with students from both BI, NTNU, Oslo Met and Kristiania.
Our Co-Founder Ingunn Søyland has become part of building ODA (Women in tech network) in the South-West of Norway. ODA has been a great success in Oslo and Ingunn will now become integral to ensuring it becomes just as important in the South-West.
It is now 2 years` and 3 months since we stepped away from the title Headhunter. We believe that Head and Hunt are two words that do not sit well in 2021 when it comes to recruitment. The term can damage a company`s employer brand and we therefore believe in using softer words and titles such as sourcing and facilitation. We have received great feedback on this both from clients and other key players within the industry and hope that more companies within recruitment follow-suit.

Diversity
It is great to see that many leading tech scale-ups and large tech-companies have set the new standard for diversity within the work-place. Companies such as Kahoot, Cognite and Airthings have all 30 + different nationalities and a very good split between men and women employees. Diversity is also important to AvantGarde Search and we love working with clients who values diversity. The industry as a whole has a long way to go on this matter, but it is getting better day by day. Recruitment companies are to some extent responsible for making sure diversity is high on the agenda. We should encourage our clients to focus on diversity and deliver the best candidates based on skills and personal fit, not based on sex, ethnicity, relligion and more.
Changes for Q3 and Q4
We have already put great emphasis on giving all our employees a say in how we run the business and we will continue to do so in Q3 and Q4. Perhaps even more than what we have done previously.  We believe in creating a company together and that each and every person is as important as the other to achieve success.
We are currently considering moving into our own offices. Further information on this will come towards the middle of August.
Kanban – We have started to work on all recruitment projects as a team and follow the Kanban method. We have already seen positive results from this relating to delivery time, quality and efficiency.
All our clients will now be invited to our agile recruitment system Teamtailor. This is first and foremost to ensure that both AvantGarde Search and our clients are 100% GDPR proof, but it will also save time in relation to communication and delivery of candidates.
Challenges for the industry
In May we were interviewed in Shifter about the lack of technical talent, especially in Oslo, and we see this as a potential hinder when it comes to growth within the tech-industry. It is not only the technology companies themselves looking for experienced Developers and Engineers, but also large corporations and consultancy companies. If things do not change, we could end up with similar problems the Oil and Gas industry had in the period 2008 – 2013 in which Geoscientist salaries increased by over 35%.  If this trend continues, something needs to be done at political level to ensure we get more young people into Software Dev and who then chose IT related studies. You can read the interview with Shifter here
final comments
We have outperformed our targets for 2021 during the first half year and we are very satisfied with our growth. We are all aware that we need to continue to improve and work harder than ever to become the #1 go to recruiter for technology companies. We will continue to dedicate ourselves and continue to be a voice within the career space and recruitment,  and of course for all other things we care about. Last, but not least; we will continue to be humble, caring and loving and work hard to ensure all our clients and candidates receive the service they deserve. We will make mistakes along the way but we promise that we will learn from these mistakes and become better recruiters, partners and people.
Thank you ever so much for all the support we have had from both clients, candidates, partners, friends and family. We could not have done this without you. We truly mean that.
Have a nice and relaxing summer and take good care.
Love all AvantGarders
---
AvantGarde Search is a specialist recruitment company focusing on recruitment to technology companies and consultancy companies within tech or digitalization. We aim to be the driver for more modern and agile recruitment services, this in a very conservative industry. We have dedicated teams recruiting within their own key areas including management, software, sales, marketing, design and operations. Additionally, we have a team that 100% focus on recruitment to IoT companies. Since the start in 2019 we have had the opportunity to work with some of the fastest growing technology companies in Norway and Sweden.